Freedom Saver Plan
DV54SEHH-FP
Drive DeVilbiss
The Freedom Saver Plan has been designed to provide everything you need to commence treatment and more.
Commence treatment with just $1 upfront* + $22 fortnightly payments over 3 years
No large out-of-pocket costs and interest payments
Save 28% off RRP
No penalty to pay plan off faster
Freedom to mix and match CPAP brands
Freedom to travel with DC Converter included
The SleepCube AutoPlus delivers the most effective sleep therapy by using a unique Auto-Adjusting algorithm that responds to the patient's breathing events. In addition, the SmartFlex and Flow Rounding features provide added comfort for the patient, ensuring a good night's rest.
Plan Inclusions
The table below details the product and service inclusions, as well as when you can expect to receive them.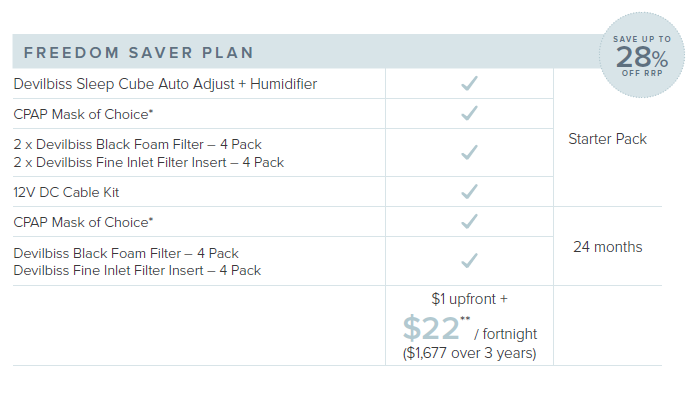 DOWNLOADS:
Freedom Payment Plans Brochure
with a $1.00 deposit
$1,716.00 over 36 months
Working hard to load all the data…